Sonny & Gloria Rice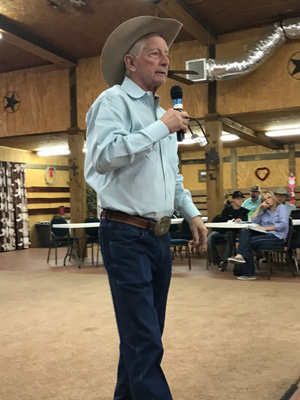 Pastor Sonny Rice
When I was 14 years old I met the woman I wanted to marry, and knew what I wanted to do in life and that was to be a Cowboy. I rodeoed all through High School and for a little while after that, then I went into the cutting horse business. All I could think about was being the…WORLD CHAMPION !!!
And that's all I had on my mind. No time for church, and no time for Jesus in my life. I believed in God, but I'd never been born again. I didn't even know you had to be saved to see heaven. In John 3:3, Jesus says, "Verily, verily, I say unto thee, except a man be born again, he cannot see the kingdom of God." I wasn't raised in a Christian home, so I didn't go to church but maybe 6 or 8 times in my life. Nobody ever told me about Jesus. That is why to this day, I tell everyone about Jesus. I don't want to see anyone separated from Jesus Christ. John 3:16 tells us "For God so loved the world that He gave His only begotten Son, that whosoever believes in Him should not perish but have EVERLASTING LIFE."
For several years I chased that pot of gold. I went to every cutting I could get to. I thought if I couldn't get there they should call it off!!! Some people get into bondages that are hard to break and get us in a lot of trouble. Jesus said in Matthew 6:33, "Seek ye FIRST the Kingdom of God and His righteousness and all these things shall be added unto you."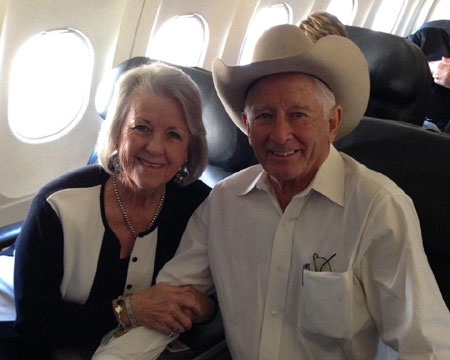 Gloria & Sonny Rice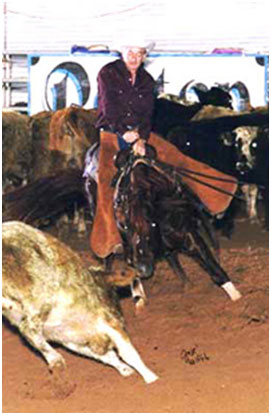 Then began my string of titles:
1976 American Quarter Horse Association Jr. Cutting Horse Champion
1976 A.Q.H.A. Sr. Cutting Horse Champion
1977 A.Q.H.A. Jr. Cutting Horse Champion
1978 National Cutting Horse Assoc. World Champion Stallion
3rd in the N.C.H.A.
1983 N.C.H.A. 8th Open Cutter
1984 N.C.H.A. Reserve Champion Open Cutter
1985 N.C.H.A. 9th Open Cutter
and then 1986 N.C.H.A. Open WORLD CHAMPION
All this was supposed to satisfy my wants and needs. But there was still something missing in my life. There is a gap in all of our lives that material things just will not fill. The hole in our life is a spiritual one that only Jesus Christ can fill.
YOU MUST BE BORN AGAIN
Until our spirit bears witness with Jesus' Spirit there will always be an empty place in our life. 1987 was a tough time in my life. I had just won that pot of gold I'd been after and thought that everything was going to be great, but I soon found out something was missing. I became depressed and was living a lifestyle that was GOING DOWNHILL FAST- I decided I wanted a divorce and told my wife. She informed me I didn't know what love was. I didn't know what she was talking about at that time, but Praise the Lord, on December 20, 1987, I met Jesus Christ and then I did know what she meant. JESUS IS LOVE and without Him you cannot love the way Jesus wants you to love. Four months later Jesus saved our marriage of 29 years, put us in a Spirit filled church, and it has only gotten better ever since.
Then on August 15, 1988, in what most call a tragedy, I was backing a horse up and she threw her head up and hit me right between the eyes. It knocked me out for 3 days and nights. Simultaneously, I pulled her over on me and in the fall, I broke my pelvis in 3 places and both my hips. But as I was laying there out cold, God sent my Angel to keep me alive because He had a purpose for my life. And He has a purpose for yours-Go tell about Him- The Bible says in Psalms 34:7, "The angel of the Lord encamps round about them that fear Him, and delivers them."
Remember this-
God doesn't call the qualified.
He qualifies the called.
Since all that, I have evangelized all over the country giving my testimony or preaching the Good News. I thank my Lord and Savior today for saving me, my marriage, my life. Also the Bible says my household shall be saved (see Acts 16:31). I am standing on that promise-Daddy and Mother, my sisters and brother Raymond, both sons and wives have all been saved…just one to go. It's a wonderful life when you know all your family is going to be together forever.
Some of you reading this right now haven't really turned your hearts and lives over to Jesus and you need to. Ask Him into your life, so when you leave this old world you'll know where you are going. And for those of you who do know Jesus as your Lord and Savior – Go tell someone about God's mercy so someone else will be saved. There is no Lone Ranger in the Kingdom of God.
Story by Sonny Rice